Get in the Habit of Sketching More Often
I want to sketch and draw more this year. I've commanded my art-making brain to sketch more often in years past, but as weeks ticked by on the calendar, other priorities elbowed the notion into a dark cupboard.
Very frustrating – and self-inflicted.
I follow Canadian artist Marc Taro Holmes. He features tips and tricks (and fantastic art) related to urban sketching. A few weeks ago, he did a live sketch event on facebook, and introduced me to the app Sktchy. See below.
Fun Portraits with Sktchy
On Sktchy, creative folks upload photos of themselves in a queue, and you have permission to draw or paint them, digitally or traditionally. For free. With no worries related to copyrights. Fun, right?
Being creative photo-takers, the selfie reference images are lit in challenging ways and loaded with every sort of facial angle and expression. #lifedrawingclass
The portrait photo references range in ages, ethnicities and global style. And the art those photos inspire is posted by absolute beginners and professional illustrators alike. Artists use pencil, charcoal, watercolors, acrylic, oils and digital means to create the portraits, so you'll find plenty of inspiration, no matter what your preferred portrait medium.
After creating art from one of the photos, you snap a photo of it from the app. When your new sketch is swiped to the right, the reference photo is revealed underneath it.
The person who posted the inspiring photo you sketched from gets notified that they inspired you, and the artsy community reacts, and community flourishes!
Giving the Sktchy app a Try
To launch my newfound love of Sktchy, I grabbed a 4×6 spiral sketchbook, and started sketching – in pencil only – to keep this simple. I've reserved this little sketchbook for Sktchy drawings exclusively, to help keep my wandering interests fenced into a single small pad.
I've done 14 little pencil portraits in about 6 weeks of evening couch-time, which breaks my all previous records for sticking with this more-drawing resolution. And I'll tell you this: the app is easy, inspiring and so FUN! My goal is to fill the sketchbook.
Compare Your Art to What
You

Made Last Month – Not Other Artists

Be warned: if you follow a large swath of artists on Sktchy, looking at everyone's amazing art and the reference photos that inspired it, you may have to rein yourself in.

Looking at all the cool photos and resulting art can be uber inspiring, or it can twirl into a deep vortex of time consuming, and not creating.

But, if you want to draw more, and you're inclined to sketch faces and figures, you might enjoy Sktchy. Their Facebook Page is a great resource too, so check that out here.
A quick little video of sketches uploaded to Sktchy on my iphone (above).
---
An Excellent Resource for Museum Images
Being on the West Coast, I don't have many opportunities to visit the Metropolitan Museum of Art in New York. I do peruse their web site to nudge my art-making brain awake if I need an inspirational boost.
This month, they've given open access to 375,000 images of public domain works in their digital catalogue. The art is available for reference, re-mixing, teaching and sharing, without restriction.
They're also listing key information under each artwork, otherwise known as tombstone data – that is title, maker, date, culture, medium, and dimensions – on all 440,000 artworks that the Museum has digitized to date.
If you're an art teacher, take a moment for yourself to happy-dance around the room and sing loud and festive. I can imagine high school students making mashup composites from Vermeer, Van Gogh and Degas for their iphone cases. I love good news. Read about their announcement here.
Getting Focused by Taking a Break
I just returned from a business conference over the weekend, and it was mind-exploding-great.
A recurring thread over the weekend was about getting started. Pulling the trigger. Stepping over the threshold. Finally doing what you've been thinking about, planning, marinating on and massaging in rough draft.
What holds us back? Like so many other starts and stops, it's always just fear. And being afraid can be cloaked in all sorts of wooly camouflage; I need to practice more. I don't have time. Materials have to be acquired first. Someone has to show me how..
The writer Anne Lamott talks about this self-inflicted avalanche of obstacles in her book Bird by Bird:
Perfectionism is the voice of the oppressor, the enemy of the people. It will keep you cramped and insane your whole life, and it is the main obstacle between you and a shitty first draft.

Anne Lamott
Grab a Rope on the Art Hill, and Pull Yourself Up
Sometimes, all it takes is a new app to inspire a tepid beginning.
Other times, it takes a weekend of experts telling you things you intuitively knew, but hadn't clarified into actionable steps. Lighting a fire of beginning under your feet is a gift, especially if you can actively pursue your own flint to get it started.
The bottom line is this: if you have something in you, and you'd like to express it, let it out. Even if it's only for you, and you alone, kick that critic to the curb, and open the door.
How is your first draft coming along? Are your art supplies moving? What's stopping you?
Lets get some work done.
I'll see you in the next post –
Belinda
P.S If you're new here, you can subscribe to this blog so each new post will be sent to you via email.
P.P.S. Here is another tip for improving your sketching habit, from American Watercolor and Dan Marshall.
Art Quote
You must have a room, or a certain hour or so a day, where you don't know what was in the newspapers that morning, you don't know who your friends are, you don't know what you owe anybody, you don't know what anybody owes to you. This is a place where you can simply experience and bring forth what you are and what you might be. This is the place of creative incubation. At first you may find that nothing happens there. But if you have a sacred place and use it, something eventually will happen.

Joseph Campbell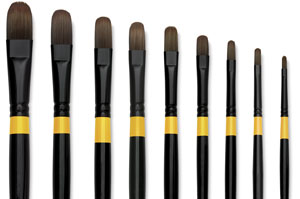 Utrecht Manglon Synthetic Brushes